A degree in psychology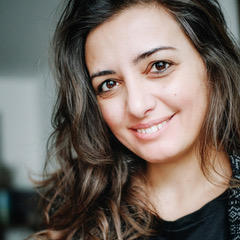 was only the first step into the topic of development and transformation. Ana's path made her a believer in the power of play and relation in order to create purposeful life and live in balance. She believes that change can only have impact if we also act on changing the workplaces and how we relate to work.
Body awareness and movement as key elements of exploration that allow the unconscious wisdom to be expressed and reflected on, is the core of her work.
Ana has a degree in Psychology and is trained in Holistic Dance, Social Presencing Theater and Embodiment coaching, which she combines with the experience of working in Business Consulting, Corporate Training, Experience and Game Design. 
Moving from within
Wednesday, 19:00 – 21:00
7th, 14th, 21st September
Holistic dance, Authentic Movement and Social Presencing Theater.
Can you recognise when you're moving from an inner impulse? When it becomes obvious what your next step is aligned with your essence?
The ability to pause and listen to the connection between body and mind, both for the purpose of awareness (of self and others) and for self-regulation is fundamental these days.
In "moving from within", we give space to what wants to be seen through body awareness, conscious movement and relational practices.
***


1 session: 25€
4 sessions: 80€
Trial session: 15€
Location: Fokus, Neubaugasse 44/2/12, 1070 Wien
More info and registration: movingwithana.com/moving-from-within