Bruno Caverna is a pioneer in creating authentic multidisciplinary body-mind practices sustained by an embodied movement philosophy drawn from over 35 years of studying and immersing in various of disciplines such as Gymnastics, Capoeira, Acrobatics, Contemporary Dance, Contact-improvisation, Taiji, Russian Systema, Watsu, Surfing and Freediving.
I began teaching in 1995 as a capoeira project leader at a psychiatric hospital. The highly demanding context supported his auto-didactic nature to flourish whilst the process was becoming deconstructive in its essence, the pedagogical ground for all the other future teaching projects that eventually expanded over 30 countries worldwide in the past 20 years.
I eventually transformed and recycled my lifelong experiences through my own inner resistances as the core subject of interest present in his practices and embodied philosophy. In 2012, Play-Fight and Liquid Body coalesced as authentic practices out of a need to label my lifelong research in the body-mind field. In 2016 I founded Formless Arts, an international cross-disciplinary hub that represents a moment of maturity coinciding with the foment of a community of self-responsible individuals.
My teaching philosophy consists in becoming a revealing mirror to one another by sensibly exposing the boundaries of our crystallized social masks and the acquired self-deceptive mechanisms. In the end, I am convinced that it is mainly through the hurtful exercise of constantly looking after our own shadows and confronting the human flaws that we may find a sense of wholeness from within, while at the same time acknowledging and honoring a diversity of artful expressions with substantial tolerance towards conflicting perspectives.
Play Fight vienna intensive
PLAYFIGHT Seminar BRUNO CAVERNA (BR)
16. – 19. Juni 2022, im FOKUS, WIEN (AT)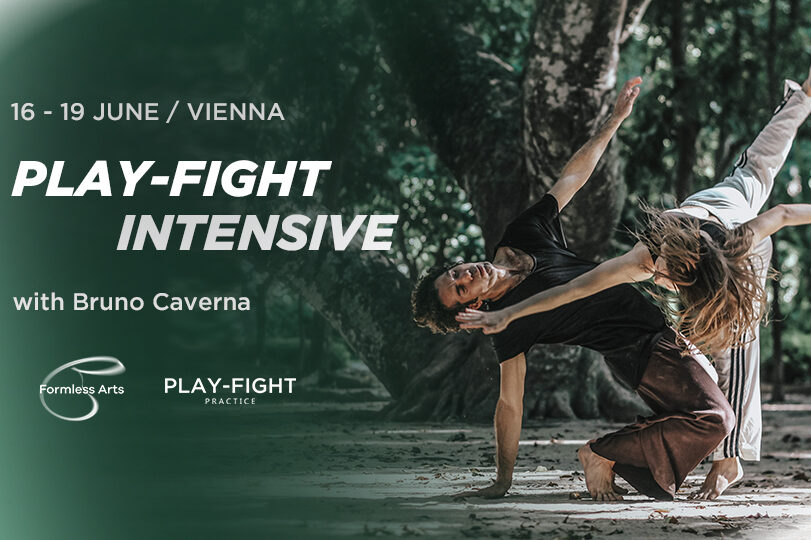 PLAY-FIGHT VIENNA INTENSIVE 
– Functional Resistance in Survival and Coping Mechanisms – 
Play-Fight is one of the pillars of Formless Arts. The practice weaves physicality with movement philosophy, shedding awareness into the unconscious resistances towards the gravitational force and the pervasive fear of falling (physically and existentially) that appears as an inherent human condition. Tensions and adversities are necessary frictions to spark evolution and growth, however when stagnated, accumulated and suppressed below the conscious radar, it may potentially turn out into traumatic events, the source for a myriad of dysfunctionalities externalized on the body-mind system. The physical drills, orientated in playfulness, focus on recognizing, acknowledging and recycling those harmful lifelong storage of unnecessary hidden tensions and blockages into a self-empowerment cultivation.Play-Fight Practice also regards the ecology of life as an inherent and inescapable interplay between cooperation and confrontation. The practice's overall aim is to integrate such a dichotomy into one fertile ground for the exploration of a dynamic balance in between such oppositions. The presence of an engaging partner is vital to ignite the mirror effect, the weaving-thread that permeates through all physical exercises and drills. By cultivating a tactful and honest confrontation, our vulnerabilities, fears, denials, escapisms and blind spots are reciprocally revealed in the bodies. As part of the process we serve to each other as a metaphorical lighthouse, like a point of navigation that supports and nourishes individual's excavation into the depths of our own inner sea of obfuscated resistances, all the way to the roots. 
WHEN
16 – 17 June: 9am – 5pm
18 June: 9am – 3pm
19 June: 10am – 6pm
(2 hour lunch-break)
WHERE
Bewusst Sein im Fokus
Neubaugasse 44/2/12
Vienna
FEE
290 euros – regular fee
260 euros – early bird available till 18th May
REGISTRATION